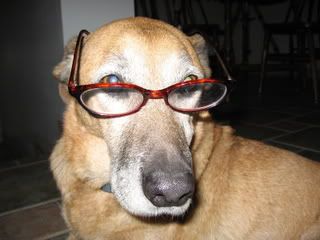 This is Jasper. He loves to read good writing!
On this Friday morning, at 7:55 a.m. Dylan dashed out the door with his school backpack. "I'm ready to go mom!"
I quickly searched for my purse, which is never in the same spot.
As Dylan and I slid into the car, I noticed a cute little car zip to a stop in front of our house. A dark haired woman fluffed her bangs. Sure enough! It was the
Gatekeeper
. From the faraway desert lands of Southern California. I gave her a quick wave and a signal that I'd be right back.
When I returned, the Gatekeeper stepped into my car and off we headed toward the freeway. Today our writer's meeting was at the home of
Mary Rice Hopkins
. We were greeted by two large smiling labs, a puffy white poodle and a kitchen full of writers.
There were ten of us today. Pat, Sandy, Jane, Mary, Yvonne, Marilyn, Sharon, Becky, Susan and the Gatekeeper. Mary broke out pistachio nuts, deliciously sweet orange and yellow bell peppers, peanuts, dried cranberries and what really wound up the meeting.....some sort of Monster Ginseng drink. It took us a good 30 minutes to calm down and start the meeting. Everyone was chatting "a mile a minute".
Pat, our most industrious writer, brought an article for us to critique. It's about 3 miracles that occurred in her life, and she is submitting it to Guideposts Magazine.
Susan, who experienced our group for the first time today, brought a very funny poem she wrote about cats. The photos she brought were hilarious. My favorite was the cat sleeping in the toilet bowl.
Jane, who tells us every month that she is not going to accept anymore editing jobs, is working on another editing job. Last month's editing job, "the never-ending story" still hasn't ended. But she will get a break soon, as she and her husband are heading out for an exciting trip that involves ministry, and also a family reunion.
Marilyn, who has inherited the draft of Arleta Richardson's
Manzanar
novel has been doing some interesting research including speaking with a woman who lived at Manzanar (Japanese Internment camp) as a child.
Many other projects and subjects were discussed.
A special treat today, was hearing some of Mary's new music. She has about thirty new songs in the works. We were toe tappin' and foot stompin' to her lively music. My favorite was the song about people who don't listen. After that followed a very entertaining discussion about husbands and the funny things they do when they are supposed to be listening to us! Like walking away before we're even done speaking! We had a good laugh.
Extra special thanks to Mary for opening her home! We missed all who could not attend.
Special note to my blogging friends.
Just a little note of explanation. Our writer's group meets the first Friday of every month. I usually write up a little light-hearted summary for those who could not attend and email it to all the group members. I decided to post it here this month...and then invite my non-blogging writer friends :-) over here to blog land. They aren't too sure about blogging....yet. The Gatekeeper and I are the only bloggers. Speaking of that...the
Gatekeeper
wrote a fun and interesting article about our group and it is published here:
How to Have a Successful Writers Group
Have a nice day everyone!