I received a vegetable garden for my birthday! On the way home from church we stopped at "Osh" and bought the vegetables. Then I got busy! It's very simple—just a few plants—but I'm excited. I spent the afternoon digging. I have a Roma tomato plant, 2 cherry tomato plants, six types of chili peppers (including jalapeno), and 3 yellow bell pepper plants. I'll take another photo in about a month. It will be fun to see how they change!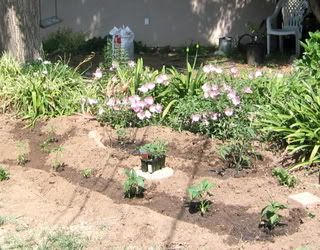 Secondly, my mom's gift to me was a haircut (we're very practical people) and highlights. Thanks mom!
A girlfriend and I went for a walk in a beautiful neighborhood today. We enjoyed the big old homes and their gardens. Afterwards we enjoyed a unique yogurt/creme cheese cup in a pastry shop.
I also went out to dinner with my husband, last night, and had a great time!
Okay, I'll be brave and tell you how old I am. 51!!