Yesterday my composer husband had a recording session with several vocalists, including songwriter, director, and producer. The film in process is a romantic comedy—a nation-wide motion picture. The song took most of the morning and afternoon to record. The style was GOSPEL. I write that BIG because WOW the vocalists were SPIRITED. One gentlemen stayed late to record the lead over the top. At dinner Tom told us about his day. He enjoyed working with the gentleman doing the lead. "I wish we could have just let him rip...but the songwriter kept saying, "No--the song goes THIS WAY." Tom said the vocalist had such spirit, it just about moved him to tears. "I felt like I was in heaven!"
So while this was going on, I was up on the roof.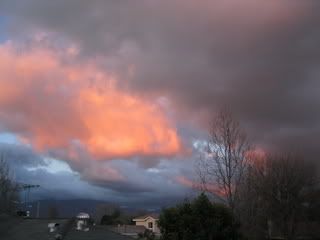 In the late afternoon the clouds were so AMAZING that I felt compelled to grab a ladder and my camera and climb up.I wondered what the clients would think about Tom's wife sitting on the roof. Well there was no time to worry about it, because the sky was changing so fast. I climbed up, and carefully crawled up to a comfortable spot near the peak, and watched the show. The beautiful cloud show put on by God himself.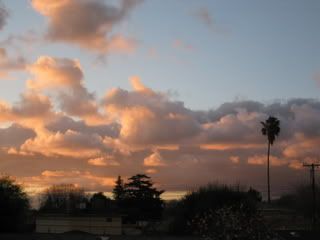 I don't often sit on the roof, but I think I will return soon. It's a great place to gain some perspective...and it feels like a small vacation. Sort of like putting one's head into heaven for a little while.