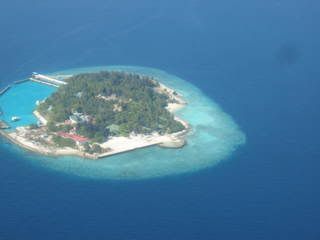 It always happens this time of year. My heart yearns to travel—to change the scenery, to refresh my soul. I'd love to visit an island with sun bleached sand and swim through warm turquoise lagoons.
Our friend, a musician, recently was hired for a gig in such a place. He boarded a plane and soared 23 hours toward the Indian Ocean south-southwest of India to the island nation of the Maldives. After a second plane ride and a jaunt in a speed boat, he stepped out on a palm covered private island. A British man had rented the island in order to celebrate his birthday.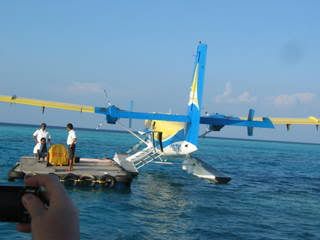 Although the Maldives is a Muslim nation, with the official religion being Islam—some of the islands are privately owned by rich foreigners. Thus, in the photo, we have a water bar.
Another view of the island. Boat building is something the Maldivians do well.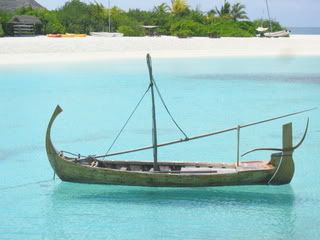 The Maldives holds the record for being the flattest country in the world! (The highest point is seven and a half feet!)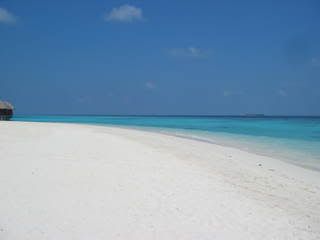 The islands are known for the wealth and diversity of marine life so our friend doned a mask and snorkle and ventured out among various shades of blue. Mezmerized by dazzling coral gardens and the brightly colored sea creatures, he soon found himself out a little too far! He knew it was time to turn back when he noticed a large school of fish heading straight toward him—fish about his size! One of them accidently nudged him in the rib. He swam back to shore fast!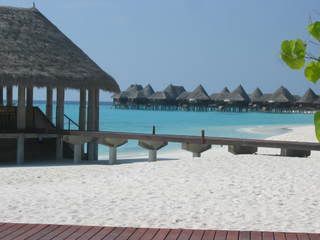 Our friend stayed in one of these huts. Apparently some of them have glass bottom jacuzzis! One guest saw a sand shark through the floor of his tub. He decided then and there he was not going in the ocean the rest of the trip!
There is a lot more I could say about these beautiful islands. Here is a short read describing how the government monitors tourism in this Muslim country. Tourists are kept separate from the villages. It's interesting...take a look.
Maldives
Next week I'm off work for spring break. I wish I could spend some time swimming through a beautiful blue lagoon, but I'll have to settle for a walk under the big blue sky.
Maldives
Islands
Private Islands