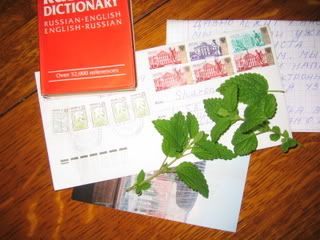 I really should not be posting. It's time for me to go to bed. It's late. But for some reason, I just feel like touching base...just for a quick hello! (I hope this is quick)
Oh...Dylan just called me. He's still up? He wants me to say goodnight. I'll be right back.
Okay. I'm settled again. My oldest son is still out somewhere. Things aren't going well with our relationship with him. We need lot's of prayer.
I received a surprise today! It was a letter from Russia! Please excuse the leaves from my Lemon Balm plant.
My husband and I visited Moscow 15 years ago. It was an experience I'll never forget--a good one. Actually we were there on my birthday, but not because of my birthday. I'll tell you more about it later. But we met a family over there, and about five years ago I lost touch with them. Just yesterday I thought of them. Then...today...a letter from Russia! I'm so excited. But the only thing is....is that it's written in Russian.
So I'll have to hunt down someone who has some expertise with the language.
Since today is supposed to be "Wednesday Writing Day" on my blog---(I'm sure many of you have given up on me about the writing posts...) But since it's Wednesday, I'll report I have one article out to a publisher--being looked at. I sent another to Associated Content per the urging of the Gatekeeper. They bought it. I also have an article coming out in October called, "What Would Jesus Do on Halloween?". They bought it almost 2 years ago!!! Writers must be very patient.