That's MOM, standing under the "T" of Tour.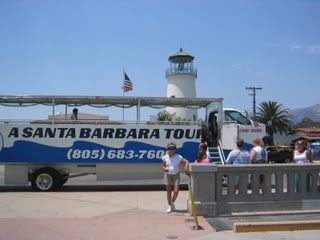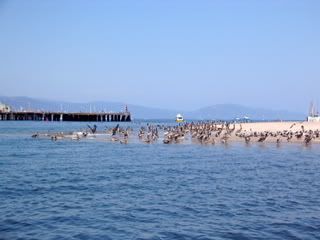 A couple of years ago, my mom and I went to Santa Barbara. We really looked forward to getting away together because its something we rarely do.
Mom bought tickets to go on a very unusual tour bus. When it took off, we hung onto our hats--because of the wind. After riding all over town, the driver headed for the harbor. When we got to the water's edge the driver didn't put on the brakes! He headed down the boat launching ramp! We rolled right into the water! We motored around for quite awhile, and these are some pictures I took from the bus. (It was one of those buses that is part boat. Have you ever been on one?)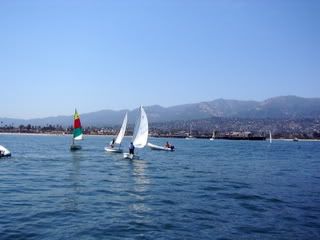 10 Things I Love About my Mom
I'm lucky to have a mom for so many years! At age 51 I can still go to her for advice. We often pray together over the phone. Here are ten things I love about my mom.
1) She has a strong faith in God.
2) She loves my dad.
3) She reminds me to have a sense of humor about life.
4) She has many friends. I enjoy meeting them and getting to know them.
5) She wise, practical and logical.
6) She is athletic and I'm proud of her tennis accomplishments.
7) She's sweet most of the time, but she can be tough when she needs to be.
8) She likes to garden, sew, read, play tennis, study the Bible, host parties, bicycle and have fun!
9) She's pretty.
10) She loves my husband, my children, and me!
I hope she doesn't mind me telling her age, but she is an amazing 76-year-old!
Happy Mother's Day Mom!