Where do writer's go? Many have crossed this bridge to sharpen their skills...in a redwood forest.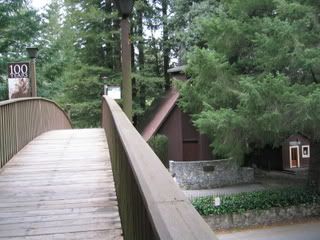 Writer's go to conferences! (When they can afford them.) One of the most exciting conferences is the Mt. Hermon Christian Writers Conference near San Jose, California. Both beginning and professional writers come to hone their skills and make connections with editors, under the guidance of professional writers. Three women from our Writer's Critique group will be attending this spring. The dates are March 30th through April 3. The conference always spans Palm Sunday weekend. Several hundred writers will attend, many of them from out of state.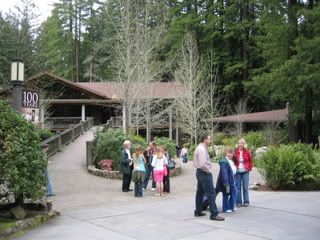 I attended last year. In the background, is the dining hall. The food is great! I especially enjoyed not cooking for 5 days!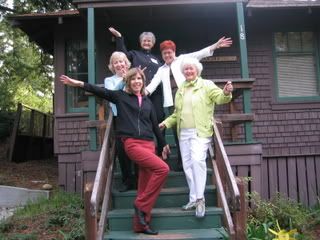 Here is a picture of us at our cabin. I roomed with 2 women from my critique group, and two new friends, one from California and one from Canada!
More about conferences next week!
This has to be a lean post. Life is sweeping me away.
Actually my husband is sweeping me away. We're going to a seminar near the coast. We have to leave before the traffic gets thick. Although it's not the dream Valentine date, I'm looking forward to being together for the afternoon and evening. We are so busy in our lives, we don't spend time together like we should. Have a Happy Valentines Day!