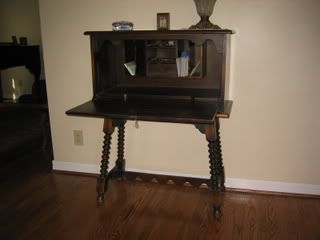 This morning I turned the key and opened my grandmother's old desk. The door swung down providing a small writing table. My grandmother passed on many years ago, but I can still visualize her sitting in front of her writing desk.
My grandmother liked to write...but she didn't write for publishers. She wrote for people.
I searched through the dark cubby holes looking for some stationery. I found a couple of odd-sized envelopes, four wrinkled stickers, a dried up pen and a few old stamps. It was a letter-writing ghost town.
Apparently, now, a larger town has taken over…called "Email".
After searching a bit deeper into the desk, I found some lightly speckled stationery that looked like a bird's egg. A small blue bird perched near the top. On the speckled envelope, I wrote my friend's name. My friend needed encouragement. And what can be more encouraging than discovering a speckled envelope in your mailbox!
Writing the letter took a bit more time than I thought. I wanted to include an encouraging scripture. Then I had to copy it on to the stationery. After composing my message, my eyes fell on a piece of paper I had printed off the internet the day before. It was a prayer. I quicky copied it via the fax machine, and folded it together with my message, and sealed the envelope. I felt excited, like one feels when one is giving a gift!
Maybe I'll save my pennies and fill my grandmother's old desk with colorful stationery once again! It feels nice to be able to encourage a friend, and I need to do it more often.