Yesterday I found myself standing on the grounds of an old Palos Verdes Estate. Looking in one direction, I could see the massive Pacific Ocean, and in the opposite direction, an old cracked stairway led up a hill. Climbing the stairs, I passed citrus groves, clusters of cactus, and strange looking shrubs.
From the top I could see a view of the land and the ocean.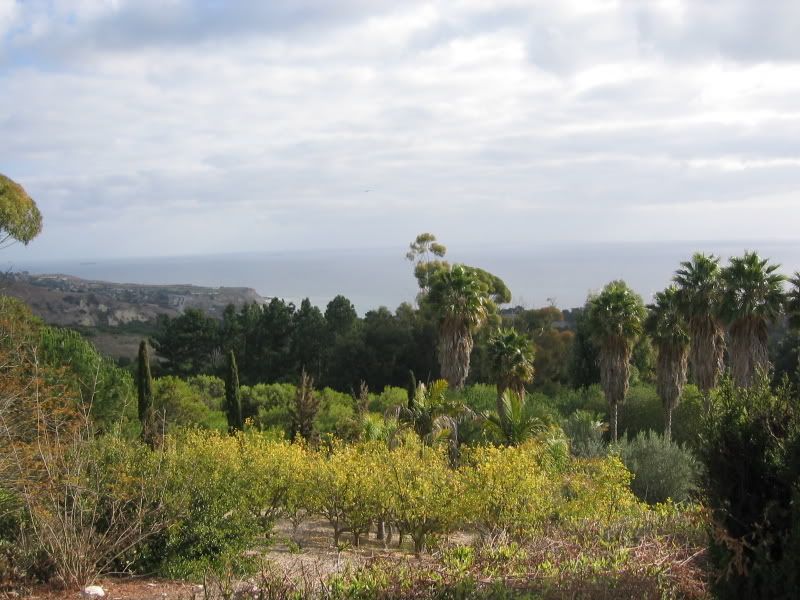 We were visiting my husband's film composing colleague who rents a bungalow on the grounds. He said the owner of the estate is a very old person who still lives in the big old mansion on the property. The many acres of land surrounding the mansion are undeveloped, and look much the same as they did 100 or more years ago. It was an awesome walk.
This trip to the coast came about quite unexpectedly. Tom, who is also a composer, needed to drop in to see his friend, to obtain some additional "sounds". We had a great time, and on the way back I talked Tom into driving over the beautiful Vincent Thomas bridge. It looks like the Golden Gate bridge of San Francisco, but its smaller. Tom, who doesn't like heights, smiled and said, "I'll do it for you." After the grand ride across the bridge, we descended safely onto the firm ground once again...only to see a roadblock. This meant we had to turn around and go back across the bridge! Tom was not thrilled. But I had fun!
Today was truly a breath of fresh air. There is a saying...that the best things in life are free. Today was wonderful. And it was free. Well..except for the gas, and visiting the Starbucks that overlooked the beach.