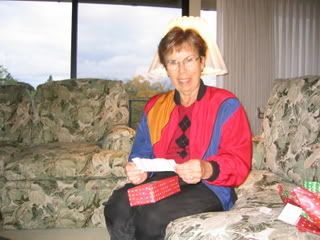 Hi Everyone!
My mother is having surgery on her wrist right now! At least she was doing something exciting when she broke it.
I'll tell you about that at the end of the post
, because now we need to talk about writing.
Today I'm emphasizing a one word tip.
Dialogue.
Put dialogue in your writing.
Yes, this may seem obvious to many of you…but if you go back over your fiction pieces, you may see places where you can add more conversation. This makes your story more exciting, and engages the reader.
And don't use the word SAID too much.
Here is an example of the WRONG way to write.
This is not a fiction work—its something Cody said to me when he was eight.
As I leaned over to kiss Cody goodnight, he told me about baseball practice.

"How did baseball practice go?" I asked.

"I think my baseball coach believes in God," said Cody.

"Really?" I said

"Yeah! He said that God made our butts for sliding," said Cody.
Time for a re-write. I need to drop the "saids" or at least replace them with more interesting words.
Can you still discern who is talking?
"How did baseball practice go?" I kissed Cody on the cheek.

"I think my baseball coach believes in God!"

"Really?"

"Yeah! He said that God made our butts for sliding!"
Now some people take this to the extreme and the reader gets lost, wondering which character is talking. So don't over-do it. But if done right, it can drive your story and sweep the reader along with you.
Remember that all dialogue begins on the left—indented. If you're not quite sure what I mean…grab a book and look at the dialogue. Whenever a new character speaks, it begins at the left margin (indented).
NOT LIKE THIS. "My mom broke her wrist," I said. "How bad was it?" asked Dylan. "It needs a plate and pins," I said.
You can get a lot of good ideas/examples of format by studying the dialogue in your favorite fiction work. And although "said" is appropriate in many instances, take the time to notice (in your favorite book) all the dandy words one can use instead!
Writing Club is now dismissed.
If you want to stay after…I'll tell you that My Mom flew to San Antonio, Texas, to compete in a Tennis tournament.
She is 76 years young. My dad went with her, and they stayed at the home of friends. My mom and her tennis partner were playing the semi-finals when a ball shot over the net just out of mom's reach, and she turned to try to hit it, and lost her balance.
"It was like slow motion," she explained. "I turned, lost my balance, and took a few steps backwards, then fell. I was holding my racket with my right hand, so I put out my left hand to break the fall."
Now mom is not a frail old lady. She's tough and she's coordinated. She has made quite a name for herself in senior womens tennis. Well…she'll have to lay off for awhile. The doctor has decided to put a plate and pins into her wrist. I gotta go. I want to call my dad and see how the surgery went…and I'll be going down for a visit all day tomorrow, and maybe Sat.
The picture above is: My brother, Me, Mom and Dad--out for a doubles match!
Take care of yourselves…and have a good weekend!